eLearning - ANGEL Essentials
Jump to: How to Log In | ANGEL Tutorials | ePortfolio Tutorials
This step in the online orientation covers ANGEL, a popular web-based course management system used at Texas A&M International University.
Online eLearning Student Orientation
You can access your course(s) via ANGEL. We encourage you to complete the eLearning Student Orientation. The estimated time required for the eLearning Student Orientation is 30-60 minutes. The module includes information about ANGEL and how to use ANGEL. This module works best in Mozilla Firefox.
Face-to-Face ANGEL Orientations for Students
Face-to-face ANGEL orientations on are available the first two weeks of every semester. To check the ANGEL Orientation schedule, go to the OIT Professional Development website. You can also schedule a one-on-one ANGEL orientation by contacting the OIT Helpdesk at (956) 326-2310.
Online Chat Support
You can also use our Online Chat Sessions to communicate with one of our Instructional Technology Coordinators who can answer your ANGEL questions, or other instructional technology related questions. Sessions are available Monday - Friday 8:00AM to 5:00PM.

Click image to visit the chat room in Adobe Connect.
Current Course Offerings
For the current Texas A&M International course offerings, go to the Schedule of Classes page from the Office of the University Registrar.
---
How to Log in to ANGEL at Texas A&M International University
When you are enrolled in a course that utilizes ANGEL, you are in a virtual classroom. Your NetID (username) and password protect your data like a key does for your locker.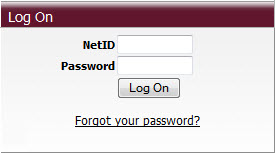 To log into ANGEL:
Log into Uconnect and click on the eLearning logo on the upper right hand corner.
OR
In a web browser address bar, type https://elearning.tamiu.edu/.
Scroll down to the Log On nugget and enter your username and password.

(Your NetID (username) and password are the same as your University NetID and password.

)
After you have successfully logged on, you will automatically be able to see links to all ANGEL courses for which you are enrolled.
---
ANGEL Tutorials
How do I...
Navigate in ANGEL?
Send a message using the course mail tool?
Submit assignments via a TurnItIn dropbox?
Post and reply to discussion forums?
Take and submit Assessments?
Check on my course grade and progress?
Generate a grade report and view instructor comments?
---
e-Portfolio Tutorials
How do I...
Import an artifact to ePortfolio?
Create a publication?
Add an artifact on ePortfolio?
Navigate in ePortfolio?
Instructional Technology & Distance Education Services
Office of Information Technology
Killam Library 259
Phone: 956.326.2792
Fax: 956.326.2299
E-mail: elearning@tamiu.edu