Office of Public Relations, Marketing and Information Services
Menu
Our Official Seal
The Official University Seal
The Texas A&M International University seal represents the international vision of the University. The seal is surrounded by 23 scallops, each representing one year of the University's existence prior to becoming TAMIU on Sept. 1, 1993.
The use of the trademarked seal is reserved for official documents and messaging from the University. The seal should not be used for informal or audience-specific publications. Please contact our Office should you be unsure as to whether or not your planned logo use is official. Other designated trademarked wordmarks and name treatments can be used for non-official communications (see University Wordmarks, below).
The University's name, Texas A&M International University, surrounds the main design element, a view of the Americas traversed by a three-dimensional, futuristic, geodesic surface. Highlighting the seal is a single star that represents the University's membership in The Texas A&M University System and the State of Texas.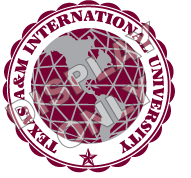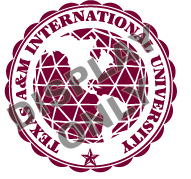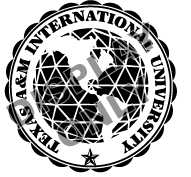 The integrity of the seal must not be compromised by placing lettering or graphic images directly behind or on top of the seal. There should be no competing artwork or text in close proximity to the seal. The seal cannot be manipulated, distorted, or appear as a watermark.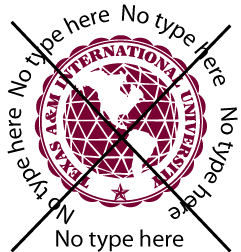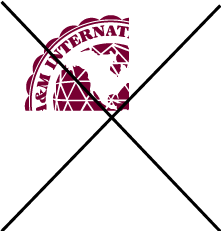 The seal cannot be printed/reproduced at a size smaller than 1".
University Logo
The Texas A&M International University trademarked wordmarks are primarily used on promotional items and in publications and advertisements. The University wordmarks may also be used in combination with the University seal.