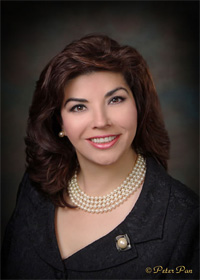 Minita Ramirez, Ph. D.
Vice President
Division of Student Success
Welcome to Texas A&M International University (TAMIU) and the Division of Student Success!

It's our proud mission to help you enjoy a seamless transition to TAMIU and your continued progress here. We're all committed to your success and our partnerships with your high school and our communities deepen our commitment to your educational achievement.

Simply put, our goal is to make sure you "Get what you want out of life!"

Here at TAMIU you'll have a true international experience as you learn and live on campus. You'll join over 6,400 students from across the nation and around the world. Equally diverse is our gifted faculty and dedicated staff.
Mission
The Division of Student Success is dedicated to cultivating an environment of respect, integrity, service, and excellence. Through motivation, accessibility and support, we empower our diverse student population to develop their greatest potential that continues beyond graduation.
University Success Center (USC)
Now Open
The new University Success Center (USC) is a one stop shop model. Prospective and current students will be able to access needed services to apply for admission, take placement exams, register for classes, apply for financial aid, request transcripts, pay for classes, buy books, and obtain academic advising services all under one roof. The University Success Center is being made possible by State funding initiated by Senator Judith Zaffirini (D-Laredo) in the 2006 legislative session.
USC is now home to the following offices:
Please click on the pictures to enlarge and browse all the pictures.
We' re all proud of our 78 undergraduate, graduate and doctoral programs that cannot only help you succeed, but truly bring you the life you want and deserve.

Working to that end, your Division of Student Success includes:
Again, we welcome you to TAMIU and pledge our total commitment to your success. Please stop by and visit and we'll discuss any special needs or concerns you might have.

I look forward to seeing you on campus!