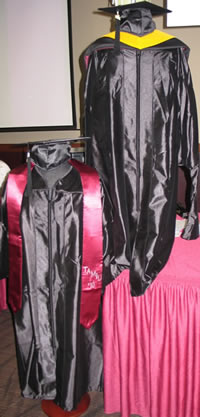 Spring 2013 Regalia Information
It is suggested that candidates wear dark clothing and black shoes.
Cap & Gown
Cap, Gown and Hoods may be purchased at the university bookstore (USC 115).
Bachelor Regalia -$33 (Unit includes cap, gown and tassel only - no hood is used)
Master Regalia - $36 (Unit includes cap, gown and tassel only)
Component Prices
Bachelor Gown -$20
Master Gown - $23
Cap - $7
Hood - $30 (Hoods will only be used by Master's Degree Candidates for Graduation)
Tassel - $6
Sash (optional) - $36.99
Orders placed after March 24, 2013 will be charged a $15 freight fee. Orders after April 22, 2013 will have a freight fee of $25.
For more information, please visit the bookstore by clicking here or call 956-326-2080.
International Patches
If you're an international student, international faculty member or a TAMIU student who has studied abroad and received TAMIU academic credit, please consider ordering a special international patch to incorporate in your upcoming Commencement Exercise. This is a great way to recognize your home country or to share your affinity for your country of study. For additional information, please contact the Office of Student Affairs, Student Center 226, at 956-326-2282 or via e-
mail at studentaffairs@tamiu.edu.