Posted: 5/17/21
TAMIU's Julieta and Frank Staggs Academy of International and STEM Studies Graduates 50

A cohort of 50 students recently graduated from Texas A&M International University's (TAMIU) Julieta and Frank Staggs Academy of International and STEM Studies.
The Staggs Academy is an innovative, University-level high school located on the TAMIU campus. It was created by Senator Judith Zaffirini and authorized by the 79thTexas legislature in 2005. The campus sits on the TAMIU campus and students are fully immersed in the college going culture while taking a full load of University courses during their junior and senior year of high school.
Dr. Patricia Uribe, Academy director and TAMIU-ISD superintendent, said she is extremely proud of the graduates.
"The 2020-2021 school year has been challenging, to say the least," she said, "Routines quickly changed, activities and celebrations were cancelled, and adjustments were made to the delivery of the university coursework. In the end, our students forged forward and persevered to completion. Congratulations to the graduating Class of 2021. We are so proud of all your accomplishments."
This year's Valedictorian was Arabellah Lozano and the Salutatorian was Omar Sandoval.
Lozano is the daughter of Adriana and Juan Lozano. She has a high school GPA of 105.88 and a 4.0 cumulative GPA at TAMIU. She has completed a total of 98 semester credit hours.  Lozano served as the president of the Staggs Academy National Honor Society as well as the historian of the TAMIU Pre-Dental Club.
She was involved in numerous organizations including Yearbook Club, Student Council, and the Laredo Land Stewardship Ambassadors. She is acknowledged as a National Merit Commended Scholar, as well as a National Hispanic Scholar. In addition, she received the Dean's List honor for each semester in her two years at the Academy. 
In Fall 2021, Lozano will attend TAMIU to obtain her Bachelor's of Science in Biology degree. She is a recipient of the TAMIU Presidential Scholarship as well as the Be IT Foundation Scholarship.
Lozano is expected to graduate from TAMIU in December 2022. Upon graduation, she plans to attend a school of dental medicine to acquire a Doctor of Dental Surgery degree.
Sandoval is the son of Crystal Kramer and Lorenzo Sandoval. He has a high school GPA of 105.15 and a 4.0 cumulative GPA at TAMIU and graduated with a total of 79 semester credit hours. He was also recognized as a National Hispanic Scholar and Border Patrol Youth of the Month for January.
Sandoval served as the treasurer of the Staggs Academy National Honor Society and belonged to TAMIU's Baptist Student Ministry, Health Occupations Students of America, Student Council, and UIL Academics.
In Fall 2021, he will attend TAMIU and major in Nursing. His future plans include serving the community of Laredo as a nurse and eventually returning to school to receive his master's degree and become a nurse practitioner.
2021 Academy graduates are Betsy Akua Addo-Mensah, Katia Lizeth Alanis, Héctor Ermenegildo Almanza, Evelyn Denise Alonso, Abigail Rachel Alvarado, José Alfredo Calderón, Victoria Campos, Jesús Alejandro Dávila Jr., Moisés De Haro, Emily Renee Fernández, Caleb Anthony Flores, Valeria Alejandra Flores, Valeria Lizeth Flores, Jasmyn Sabrina Jing Lan Foster, Fernanda Montserrat Fragoso, Keyla Nichole García, Kasandra Danae Gloria, Carmen Alejandra González, and Kassandra Nicole González.
Also, Reynaldo Abiel González, Claudette Guardiola, Carlos Humberto González, Jordann Paris Hale, Alexandra Bella Herrera, Celeste Sophia Herrera, Oluwaseyi Ayomikun Johnson, Melody Kaitlyn Linares, Jacob Alan López, Arabellah Hope Lozano, Eduardo Benjamin Lozano, Kaitlyn Rochelle Luna, Abigail Marie Martínez, Mauricio Martínez, Adriana Marielle Medrano, and Benjamin Mercado.
James Samuel Mitchell, Humberto Gerardo Ochoa Núñez, Maximiliano Prado, Angelina Amelii Randez, Melanie Reyes, Alejandro Javier Rodríguez, Alexis Marie Salinas, Karla Victoria Sandoval, Omar Sandoval, Catherine Danalee Serna, David Vargas, Carolina Anahí Velázquez, Carolina Adriana Villarreal, Treytion Weight, and Ethan Christopher Willett. 
The Julieta and Frank Staggs Academy of International & STEM Studies is still accepting applications  for the 2021-2022 school year.  Apply at www.tamiu.edu/coas/theacademy or call 956-326-2860.
About the Academy's Namesakes
Frank Staggs, was born in July 1927 in Laredo to Frank W. and Gertrude Frizzel Staggs. His career spans teaching, insurance, coaching, ranching, refereeing and even bus driving. He studied at Texas A&M University for a short time before enlisting in the United States Armed Services. His assignment was to the U.S. Army Hospital Ship Mercy, which sailed across the Pacific Theatre of operations. After finishing his extended tour of duty in 1947, he continued his education at Texas A&I University-Kingsville, where he graduated with a Bachelor of Science. He has taught in San Benito, Mirando City and Laredo and served as an assistant principal at M.B. Lamar Junior High School. When Milton Elementary School opened, he became its first principal and returned to Lamar as its principal in 1969. During that time, he began ranching with his wife, Julie's uncle, Dr. Raúl de la Garza, at the family ranch near Oilton. Then, the Central Office came calling in 1972, and he was named Director of Special programs. Eight years later, he retired from education to pursue a career in the insurance business.
María Julieta Farías Staggs was born to Francisco F. Farías and María Julieta de la Garza Farías in July 1925. She graduated with honors from Martin High School in 1942. She studied Education and Spanish at what is now Texas State University in San Marcos. She taught school in D'Hanis, Texas one year and returned to Laredo teach at Martin High School, and then Bruni School. She met Frank Staggs in August 1951 and they were married May 28 the following year. They moved to Greely, Colorado that summer and returned to teaching in Frank's hometown of Mirando City. She taught third grade while awaiting the birth of Frank, Jr. who was born February 1953. That summer, the Staggs returned to Colorado where Frank completed his Masters in School Administration. They welcomed their second son, Raúl C., in August 1957.
Laredo became their permanent home that fall and Julie began a 30+ year teaching career at the new M. S. Ryan Elementary where she made many lifelong friends doing what she enjoyed most: teaching. In 1987, Julie was selected to portray Martha Washington as part of Laredo's Washington's Birthday Celebration. Frank was her "George." Julie was beset by Alzheimer's in 2003 and passed in October of 2015.
For additional information on the Academy, call Dr. Uribe at 956.326.2860, email puribe@tamiu.edu, or click on http://www.tamiu.edu/coas/theacademy/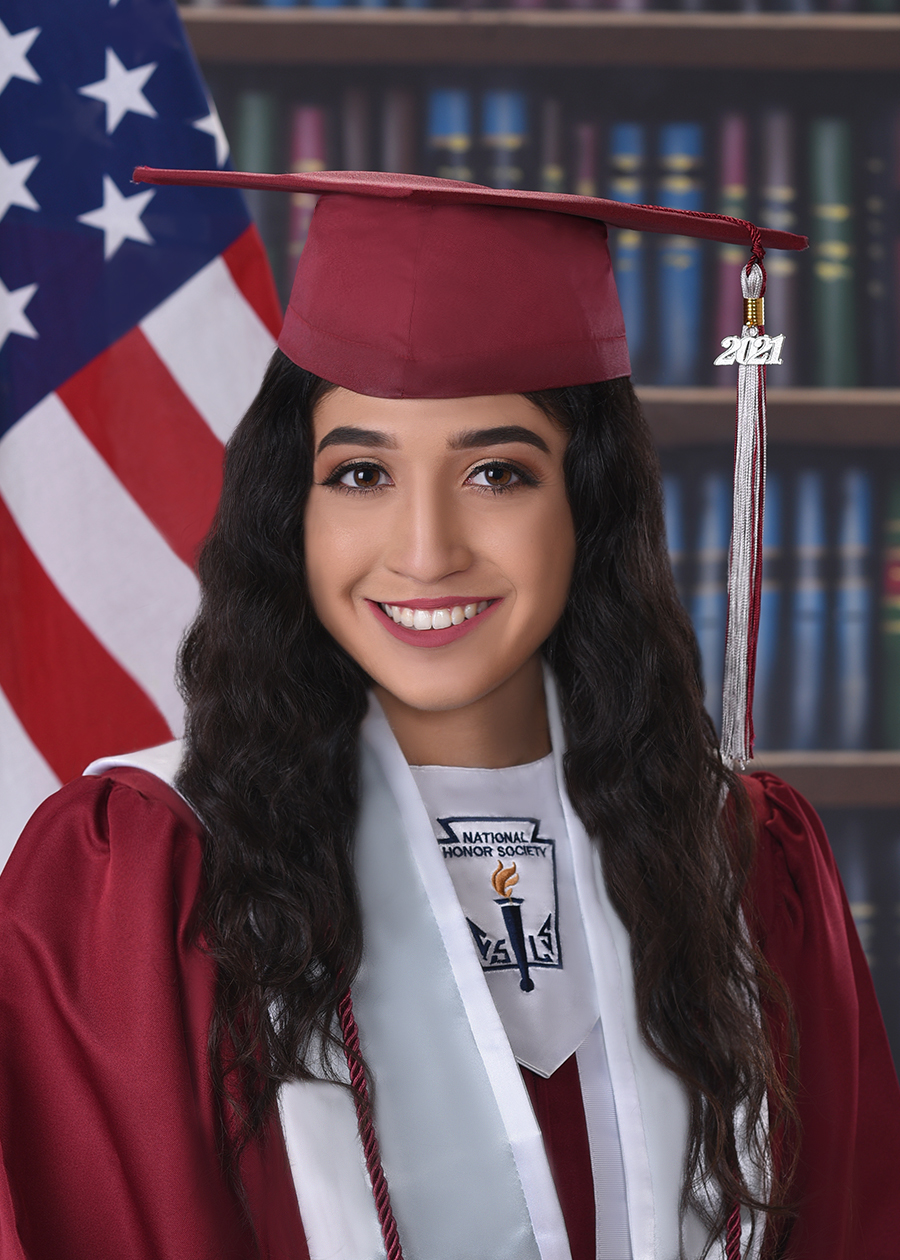 Arabellah Lozano, Valedictorian
Omar Sandoval, Salutatorian