Posted: 5/29/20
TAMIU's Julieta and Frank Staggs Academy of International and STEM Studies Graduates 48

A cohort of 48 students recently graduated from Texas A&M International University's (TAMIU) Julieta and Frank Staggs Academy of International and STEM Studies.
Located on the TAMIU campus, the Academy is an innovative, University-level institution designed for highly gifted and motivated high school juniors and seniors focusing on Science, Technology, Engineering and Mathematics (STEM) and International studies.
The Academy was created by Senator Judith Zaffirini and authorized by the 79th Texas Legislature in 2005. Students are fully immersed in University life, taking a full load of university courses in their junior and senior year of high school.
Dr. Patricia Uribe, Academy director and TAMIU-ISD superintendent, congratulated the graduates who persevered academically despite unprecedented times.
"The 2019-2020 school year has been challenging, to say the least," she said, "Routines quickly changed, activities and celebrations were cancelled, and adjustments were made to the delivery of the University coursework. In the end, our students forged forward and persevered to completion. Congratulations to the graduating Class of 2020! We are so proud of all your accomplishments!"
This year's Valendictorian was Hector Cárdenas and the Salutatorian was Francisco Cerda.
Cárdenas is the son of Federico and Cynthia Cárdenas. He has a high school GPA of 104.638  and a cumulative TAMIU GPA of 3.95.  Cárdenas has completed 88 semester credit hours at TAMIU.  He was recognized as a National Merit Commended Scholar and Border Patrol Youth of the Month for December.  He is a member of HOSA and the American Chemical Society.  He will attend TAMIU this Fall and major in Chemistry and minor in Computer Science.
Cerda is the son of Irma Sáenz. He has a high school GPA of 104.552 and a cumulative TAMIU GPA of 4.0. Cerda has completed 87 semester credit hours at TAMIU. He was recognized as the Border Patrol Youth of the Month for the month of January. He will attend Brown University this Fall, majoring in Biology. His future plans include attending medical school and studying pathology.
2020 Academy graduates are Rachel Marie Aguilar, Hind Al-Sammarrie, Bernardo Barragán, Hector Cárdenas, Nicolas Catalani, Francisco Cerda, Aurora Mariana Chapa, Anna Clarissa Dávila, Ezra Joe Flores, Matthew Manuel Flores, Emily Garza, Josue Gómez, Alfonso González, and Victoria Guerra.
Also, Emma Anastacia Guerrero, Travis Denman Holmgreen, Laura Cecilia López, Lia López, Melanie Lozano, Andrea Martínez, Jacqueline Martínez, Lauretta Alicia Martínez, Samantha Azeneth Molina, Alex Montemayor, Emily Aimeé Muñoa, Marlene Muñoz, Ximena Paola Núñez, Viviana Ochoa, Mayer Lansky Olguín, Lizbeth Ovando, and  Sydney Perkins.
Also, Miranda Carolina Picazio, Taylor Ray Pool, Carlos Rene Ramírez, Kenneth Jay Rodman, Danette Rodríguez, Melody Avani Rodríguez, Javier Rosales, Cristina Diana Samaniego, Miguel Angel Sánchez, Elizabeth Sandel, Mariella Tedesco, Kayla Ann Torres, Valeria Tovar, Kimberly Villarreal, Luis Manuel Villarreal II, Selika Lynn Villarreal, and Fryda Monserrat Zúñiga.
The Julieta and Frank Staggs Academy of International & STEM Studies is still accepting applications for the 2020-2021 school year. Interested students may apply at www.tamiu.edu/coas/theacademy or call 956-326-2860.
About the Academy's Namesakes
Frank Staggs, was born in July 1927 in Laredo to Frank W. and Gertrude Frizzel Staggs. His career spans teaching, insurance, coaching, ranching, refereeing and even bus driving. He studied at Texas A&M University for a short time before enlisting in the United States Armed Services. His assignment was to the U.S. Army Hospital Ship Mercy, which sailed across the Pacific Theatre of operations. After finishing his extended tour of duty in 1947, he continued his education at Texas A&I University-Kingsville, where he graduated with a Bachelor of Science. He has taught in San Benito, Mirando City and Laredo and served as an assistant principal at M.B. Lamar Junior High School. When Milton Elementary School opened, he became its first principal and returned to Lamar as its principal in 1969. During that time, he began ranching with his wife, Julie's uncle, Dr. Raúl de la Garza, at the family ranch near Oilton. Then, the Central Office came calling in 1972, and he was named Director of Special programs. Eight years later, he retired from education to pursue a career in the insurance business.
María Julieta Farías Staggs was born to Francisco F. Farías and María Julieta de la Garza Farías in July 1925. She graduated with honors from Martin High School in 1942. She studied Education and Spanish at what is now Texas State University in San Marcos. She taught school in D'Hanis, Texas one year and returned to Laredo teach at Martin High School, and then Bruni School. She met Frank Staggs in August 1951 and they were married May 28 the following year. They moved to Greely, Colorado that summer and returned to teaching in Frank's hometown of Mirando City. She taught third grade while awaiting the birth of Frank, Jr. who was born February 1953. That summer, the Staggs returned to Colorado where Frank completed his Masters in School Administration. They welcomed their second son, Raúl C., in August 1957.
Laredo became their permanent home that fall and Julie began a 30+ year teaching career at the new M. S. Ryan Elementary where she made many lifelong friends doing what she enjoyed most: teaching. In 1987, Julie was selected to portray Martha Washington as part of Laredo's Washington's Birthday Celebration. Frank was her "George." Julie was beset by Alzheimer's in 2003 and passed in October of 2015.
For additional information on the Academy, call Dr. Uribe at 956.326.2860, email puribe@tamiu.edu, or click on http://www.tamiu.edu/coas/theacademy/
As part of its response to the COVID-19 pandemic, TAMIU's campus is closed only to the general public. Entry to campus continues for students, faculty, staff and those having legitimate reasons to be on campus. Online and virtual services at the University continue, practicing all CDC guidelines on gathering, masking and social distancing and with most staff working remotely.  Office hours are subject to change and it is recommended that phone or email contact be made first to determine the office's schedule of operation.   An online directory is here.
The University's dedicated COVID-19 website is updated regularly and includes information on office schedules and services, an expansive FAQ, quick links, student resources, official information resources and much more.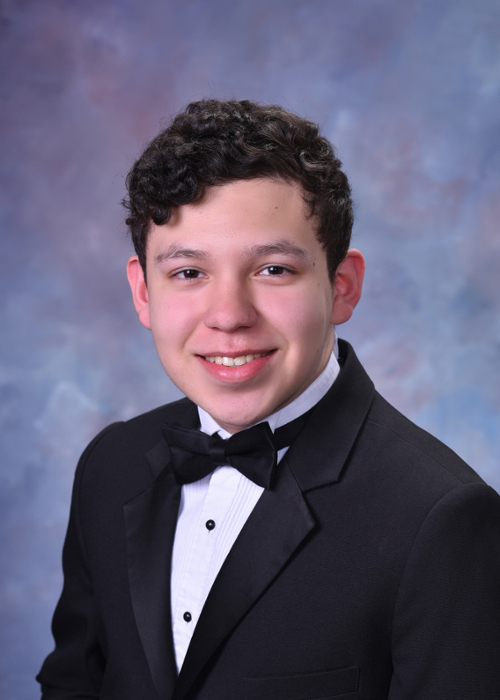 Hector Cárdenas, Valedictorian
 Francisco Cerda, Salutatorian