Welcome to the University's Identity Toolkit
The University's official name is Texas A&M International University on first or primary usage. This is used in all official or legal communications.
The secondary name is an abbreviation, TAMIU. It is used when the primary identity has already been established within the communications.
On third usage, we simply refer to the University when speaking specifically of TAMIU.
These are inaccurate and not to be used: Texas A&M International, A&M International, Texas A&M- Laredo, TAMIU-International.
Complete listing of approved Campus Nomenclature.
The University's Brand
The Texas A&M International University Brand is a proud evocation of our mission, role and scope.  Our campus is international and the education we provide is global.  Our 8,500+ students come from 30+ countries and our gifted faculty is likewise drawn from around the world. The brand merges TAMIU's traditional colors with a flourish of gold. 'The International U' reinforces how TAMIU is perceived and regarded and proclaims so with a proud and strong visual confidence.
The University's Visuals
TAMIU has chosen a tight palette of trademarked and registered visuals that brand our University in all communications. Their use is consistent, dedicated, monitored and protected.
These Visuals are:
Seal - This is a formal mark selectively used in official or formal contexts including diplomas, legal documents and official University communications. Use of the Seal is strategically limited and approved by the Office of Public Relations, Marketing and Information Services.
Visit General Seal Guidelines including colors, sizes, samples and best practices for use of the Seal.

Brand - The University's Brand was developed to strategically elevate our defining international nature… and so confidently proclaims this for all. It reflects our mission and outreach and should be used in all communications with the exception of the most formal, which will utilize the Seal.
Visit General Brand Guidelines, including colors, samples, sizes and best practices for use of the Brand.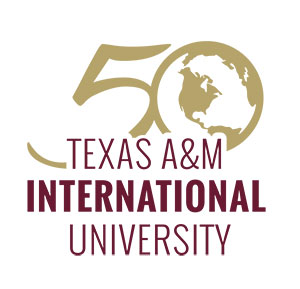 Anniversary Brand - The 50th Anniversary Celebration Brand was in use  throughout 2019-20 and heralded the University's historic milestone.  It defined the University at 50 and the Celebration theme: "A World of Difference."  The use of the Anniversary brand has now ended and branding needs should default to the Brand above.

Icon - The Icon is a decidedly informal mark, used selectively on marketing and recruitment materials and in digital media. It enjoys widespread use in internal and on-campus applications, and is often used for co-branding or departmental efforts.
Visit   General Icon Guidelines, including colors, sizes and best practices for use of the Icon.

Alternate Wordmark - This can be used in instances that don't require a formal or logo use, but need to communicate the University's presence or involvement. It is frequently used to help identify University departments, divisions, offices, for example. In use, treat as you would the Brand or Icon. Visit General Alternate Wordmark Guidelines.

Athletics - TAMIU is home to NCAA-Division II, 11-sport Dustdevil Athletics, with its own set of distinctive logos, marks and Mascot with dedicated controls and uses. All are focused on promoting sports on campus and encouraging Dustdevil spirit.
For Guidelines, including colors, samples, sizes and best practices, see the Dustdevil Athletics Style Guide.
General Rules of Use
The University's Visuals:
Cannot be manipulated, cropped or used in conjunction or combination with other brands, logos or marks.
Should never be recreated or typeset.
Are always considered art, not type.
Only use assigned colors.
Respect a minimum size allowance: print = 1.25"; digital = 70 pixels wide.
Observe an assigned buffer around the mark utilized that equals the height and width of the mark.
University Colors
Just as the University has developed trademarked and registered visuals, it has selected an official color palette with primary, secondary and impact values.
Primary colors are (PMS 7421, PMS 877 and PMS 4515) and are used for everyday, formal and informal uses.
Secondary colors are neutral supplements to the primary and include gray scale and reverse allowances and are especially appropriate to non-color use. (LIST PMS#'s, show blocks, and label)
Impact colors are special highlight uses or pairings that provide depth and dimension to planned uses. (LIST PMS#'s, show blocks, and label)
WEB COLORS
61162d
cccccc
b5a36a
PMS CODES
PMS 7421
PMS 877
PMS 4515
RGB
R105
G28
B51
R204
G204
B204
R181
G163
B106
CMYK
C38
M93
Y62
K45
C19
M15
Y16
K0
C31
M31
Y68
K2
University Type
To complement the University's visuals and colors, fonts have been selected to create a Standard Typography Palette. It is consistently deployed in print and digital uses and provides a range of weights and flexibility. The Typography Palette has been grouped into Primary, Secondary and Alternative typefaces.
Primary Typefaces are ARIAL and HELVETICA and are the University's default use for print communications. Offered in weights from light to super bold, and condensed to extended, it is flexible for diverse design needs.
The Secondary Typeface is TIMES NEW ROMAN and intended for more formal print uses such as invitations or publications.
The Alternative Typefaces are used when primary and secondary typefaces are unavailable. They are limited to: OSWALD.
TAMIU's digital media also use dedicated HELVETICA typefaces consistent with the accepted palette.
The TAMIU web font is Raleway, defaulted to about 15.5 pt. Raleway is a web-optimized font selected for its high legibility and compliance with accessibility and responsiveness standards.
In general, PRMIS adheres to the Written Style Guidelines endorsed by The Texas A&M University System, which draws its Foundation from the Associated Press Stylebook and Libel Manual. 
University Video Guidelines
Texas A&M International University embraces The Texas A&M University System Video Guidelines for its Members.