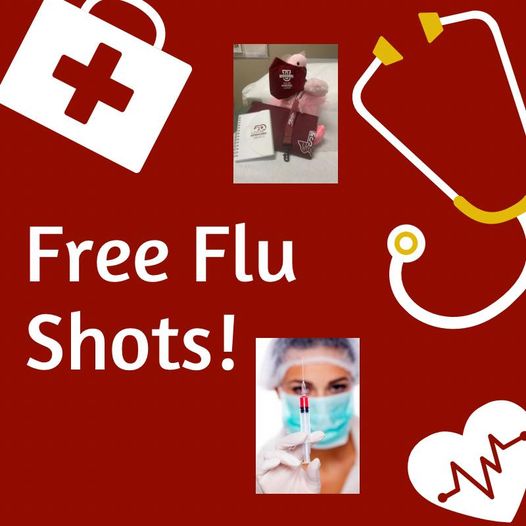 Come by Student Health Services for your flu shot and receive a free shirt and other goodies while supplies last! Call and make your appointment today!
Free Flu Vaccines for All Registered Students AVAILABLE NOW!

-Vaccines are administered Monday-Friday during normal business hours.
-If you are interested in receiving a free flu vaccine, please call the Office of Student Health to schedule your appointment.
-Vaccines will be administered while supplies last.
-IMPORTANT NOTE:  Flu vaccines will NOT be administered to students who are:
Sick with sore throat, cough and/or fever
Allergic to eggs
Pregnant or believe they may be pregnant
HPV (GARDASIL) Vaccine
Free for eligible students!
Not sure if you have the vaccine? Please visit Student Health Services to meet with Registered Nurse for more information.
TB TESTING
TB skin tests are available for registered students for $15 by appointment. Appointments are available Monday, Tuesday and Wednesday of every week. Please call our office to schedule an appointment.
If you receive a TB skin test, you must be able to return to Student Health Services 48 hours after administration in order to obtain results. All documentation of TB results will be provided at follow up appointment.
Texas A&M International University - Student Health Services
Student Center 125 Phone: (956) 326-2235 Fax: (956) 326-2234